National Specialities
Chocolate Caramel Cheesecake
(860g)
Baked chocolate flavoured cheesecake on a digestive biscuit base, topped with milk chocolate cream mousse and caramel sauce, sprinkled with milk chocolate coated caramel pieces and salted caramel pieces.
Discover the world through National Specialities by Conditorei Coppenrath & Wiese. From typically British Cheesecakes to Pavlovas from Australia and New Zealand and the classic German Strudel, our range offers something for everyone. Defrosted or baked in a matter of moments, our National Specialities are perfect for dessert and ideal for an afternoon treat.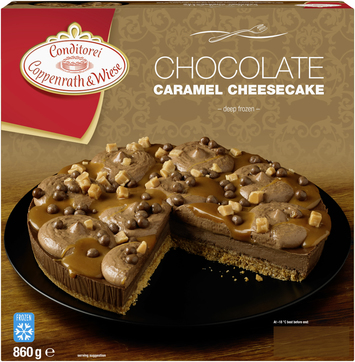 Typical values per 100g.
Energy (kJ):

1245

Energy (kcal):

297

Protein (g):

6.0

Carbohydrates (g):

41,4

of which sugars (g):

29,2

Salt (g):

0,38
Fat (g):

11,5

of which saturates (g):

5,8

Monounsatureted fatty acids (g):

4,3

Polyunsaturated fatty acids (g):

1,1

Cholesterin (g):

0.05

Fibre (g):

1,7
Cereals containing gluten (namely wheat, rye, barley, oats, spelt, kamut or their hybridised strains) and products thereof:

Yes

Eggs and products thereof:

Yes

Peanuts and products thereof:

No

Soybeans and products thereof:

Yes

Milk and products thereof (including lactose):

Yes

Nuts (namely almonds, hazelnuts, walnuts, cashews, pecan nut, brazil nuts, pistachio nuts, macadamia or Queensland nut) and products thereof:

No

Sesame seeds and products thereof:

No

Sulphur dioxide and sulphites at concentrations of more than 10 mg/kg:

No

May contain traces of nuts.

Dear Customer.
All information with regards to allergens und nutrients of our products are kept up-to-date on this page. However, due to our products´ frozen state and, thus, the long shelf life, information on the packaging may differ from those on this homepage. Please refer to the information on the products´ packaging prior consumption as these information are binding and corresponding with the packagings´ content.
Thank you for your understanding.
Room temperature

2-3 hours
Defrost at room temperature for 2-3 hours. Once defrosted, keep refrigerated and consume on the day of defrost.
-18 °C/-0.4 °F, see printed best before date

3 weeks

4 days

1 day in refrigerator

Do not re-freeze once thawed.