Cakes & Tarts
Chocolate Fudge Cake
(450g)
This frozen chocolate fudge cake is ready to eat in under 5min! Simply heat it in the microwave for a few short moments and the chocolate sauce will gently begin to melt over its warm chocolate base. Chocoholics beware!
Discover the world of National Specialities by Conditorei Coppenrath & Wiese. From typically British Cheesecakes to Pavlovas from Australia and New Zealand and the classic German Strudel, our range offers something for everyone. Defrosted or baked in a matter of moments, our National Specialities are perfect for dessert and ideal for an afternoon treat.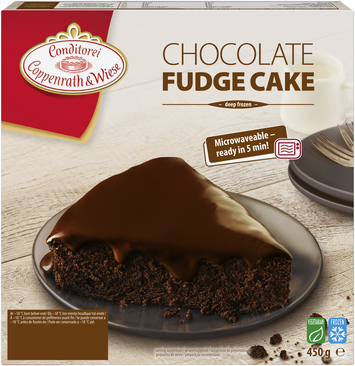 Typical values per 100g.
Energy (kJ):

1489

Energy (kcal):

356

Protein (g):

5.2

Carbohydrates (g):

45,0

of which sugars (g):

27,1

Salt (g):

0,48
Fat (g):

16,6

of which saturates (g):

8,1

Monounsatureted fatty acids (g):

6,4

Polyunsaturated fatty acids (g):

1,8

Cholesterin (g):

0.08

Fibre (g):

2,5
Cereals containing gluten (namely wheat, rye, barley, oats, spelt, kamut or their hybridised strains) and products thereof:

Yes

Eggs and products thereof:

Yes

Peanuts and products thereof:

No

Soybeans and products thereof:

Yes

Milk and products thereof (including lactose):

Yes

Nuts (namely almonds, hazelnuts, walnuts, cashews, pecan nut, brazil nuts, pistachio nuts, macadamia or Queensland nut) and products thereof:

No

Sesame seeds and products thereof:

No

Sulphur dioxide and sulphites at concentrations of more than 10 mg/kg:

No

May contain nuts. Made in a production area that uses nuts.

Dear Customer.
All information with regards to allergens und nutrients of our products are kept up-to-date on this page. However, due to our products´ frozen state and, thus, the long shelf life, information on the packaging may differ from those on this homepage. Please refer to the information on the products´ packaging prior consumption as these information are binding and corresponding with the packagings´ content.
Thank you for your understanding.
Room temperature
Microwave
-18 °C best before end: see front of pack

4 weeks

1 week

1 day in refrigerator

Do not re-freeze once thawed.