Gateaux & Cream Cakes
Our Finest Cream Marzipan Torte is the mother of all cream cakes. Its delicious exterior is made from nothing but the finest marzipan and covers a fresh almond cream filling that's laced with crunchy chocolate chips. Truly divine - and guaranteed to get your taste buds tingling!
Whether you're enjoying time with family and friends or welcoming unexpected visitors - whatever it is you're celebrating, there's one thing you can always rely on: a Finest Cream Centrepiece Gateau by Conditorei Coppenrath & Wiese. Guaranteed to inspire love at first bite, our gateaux arrive on your table freshly made. Tantalising beyond compare and irresistibly tasty! That's a promise! Our expert's advice: Our Large Tortes are perfect for big celebrations as well as for more intimate dinner parties. To enjoy one, defrost it slightly at room temperature for 20 to 30 minutes. Then, cut it into slices using a large knife that has been dipped in hot water. If you don't want to eat the whole torte in one go, put the rest back into your freezer. The part that you do want to eat will defrost more quickly if you slice it up.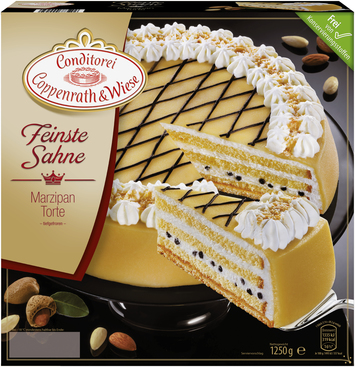 Typical values per 100g.
Energy (kJ):

1495

Energy (kcal):

357

Protein (g):

6.5

Carbohydrates (g):

42,8

of which sugars (g):

28,0

Salt (g):

0,20
Fat (g):

17,5

of which saturates (g):

6,3

Monounsatureted fatty acids (g):

5,5

Polyunsaturated fatty acids (g):

1,5

Cholesterin (g):

0.05

Fibre (g):

1,2
Cereals containing gluten (namely wheat, rye, barley, oats, spelt, kamut or their hybridised strains) and products thereof:

Yes

Eggs and products thereof:

Yes

Peanuts and products thereof:

No

Soybeans and products thereof:

Yes

Milk and products thereof (including lactose):

Yes

Nuts (namely almonds, hazelnuts, walnuts, cashews, pecan nut, brazil nuts, pistachio nuts, macadamia or Queensland nut) and products thereof:

Yes

Sesame seeds and products thereof:

No

Sulphur dioxide and sulphites at concentrations of more than 10 mg/kg:

No

May contain other nuts.

Dear Customer.
All information with regards to allergens und nutrients of our products are kept up-to-date on this page. However, due to our products´ frozen state and, thus, the long shelf life, information on the packaging may differ from those on this homepage. Please refer to the information on the products´ packaging prior consumption as these information are binding and corresponding with the packagings´ content.
Thank you for your understanding.
Room temperature

5 hours
When sliced allow 1 hour less.
-18 °C/-0.4 °F, see printed best before date

3 weeks

4 days

Do not re-freeze once thawed.